››› Guided Tours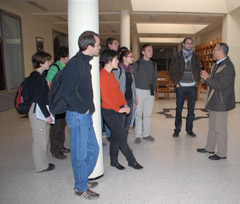 The Foundation organizes guided tours for cultural associations and school groups.
Theses tours are meant to closely discover the premises of the Foundation, the collections of its library and its cultural activities. They also aim at acquainting the visitors, especially young ones, with reading spaces and encouraging them to get a fair picture of the book.
To take advantage of these tours, the interested party will need to send an application letter to the Foundation mentioning the nature of its activities, the suggested number of visitors and the suggested time of the visit. The Foundation will reply to confirm the time of the visit or to postpone it.